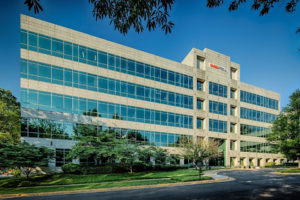 Winter 2020 | On December 7, 2020, CoStar News featured Cambridge Property Group LLC in an article which celebrates Garda World Federal Services' renewal of a substantial 21,136 square feet space at Cambridge Metro Overlook in Mclean, Virginia.
Cambridge's leasing team for the property is comprised of a creative, dedicated, and seasoned group of brokers that includes Benjamin R. Eldridge, Andrew J. Czekaj III, and Katherine C. Freehof.
Owned by Cambridge-Harrison Metro and property managed by Cambridge Asset Advisors LLC, Cambridge Metro Overlook at 1760 Old Meadow Road is a Class A, multi-tenant five story office building that is ideally situated within walking distance to the McLean Metro Station.
The property boasts an abundance of tenant amenities including a tenant only Amenity Center, an on-site conference facility, a tenant lounge, a fresh food micro-market, and improved indoor air quality technology.
As Garda World Federal Services has decided to extend their stay at the property, Cambridge continues to provide the utmost convenience, comfort, and safety to its valued tenants.