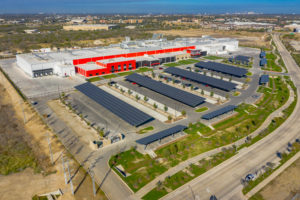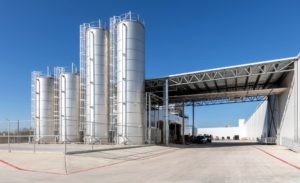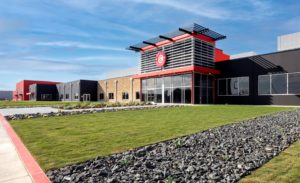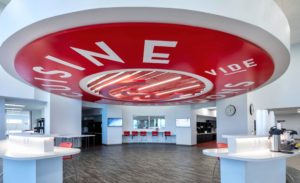 Spring 2021 | On April 13, 2021, San Antonio Business Journal announced the winners of this year's Building San Antonio Awards. The brand-new $200 million-dollar, 315,000 square foot Cuisine Solutions facility developed by Cambridge Development Group at Brooks City Base Opportunity Zone won San Antonio Best Industrial Project of the Year for its environmentally and socially conscious low-impact design and construction.
Innovative features of Cuisine's LEED-certified processing hub are centered around conserving resources and giving back to the community. Cambridge Development Group partnered with Go Smart Solar's Big Sun Community Solar program in San Antonio which places about 900kW DC of clean and renewable energy back into the power grid. This makes the Cuisine plant the largest participant in the program. In partnership with Cuisine Solutions, Cambridge Development Group implemented a low-impact watershed development that recycles water used in processing to reduce potable water consumption by 50%, making it the first of its kind in San Antonio. Beyond the environmental impact, the award-winning facility is recognized for the potential to increase socio-economic growth by bringing up to 700 well-paid future jobs to the San Antonio community.
The COVID-19 crisis which began in 2020 created unique logistical challenges and slowed operations. Notwithstanding such adversity, progress persisted amid the pandemic and as 2020 ended, The World's Largest Sous Vide Plant came to complete culmination.
Although this was the first development in San Antonio by Cambridge Development Group, the overall experience working with the City of San Antonio and Brooks City Base has been so terrific that Cambridge has sought additional opportunities to work with Brooks. They finished their second development in November 2020 and look forward to starting two more projects in the Park in 2021.