Return to Office Guidelines
Cambridge Holdings LLC is dedicated to the safety and well-being of our valued tenants and clients. We understand that the new normal is difficult to embrace, which is why we are here to help our tenants and clients to navigate a reimagined office environment as we create safer and more effective workplaces together. We are here to help facilitate a safe and comfortable return to the workplace by offering guidelines and recommendations for a smooth transition.
Click the document below to learn more: 

COVID-19 Response
In response to the COVID-19 crisis, we have researched and determined in accordance to CDC guidelines, the most effective ways to modify our portfolio to ensure safer and healthier environments for our valued tenants, clients, and patrons. Our most significant modifications reach above the standard to include HVAC upgrades and air quality improvements which are upheld by independent study to be greater than 90% effective in eliminating pathogens such as Sars-Cov-2 and the human coronavirus, as well as office landscape modification services such as touchless entry and plexiglass dividers.
Click the articles below to learn more: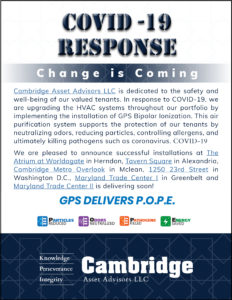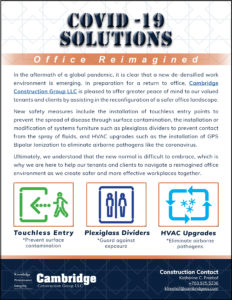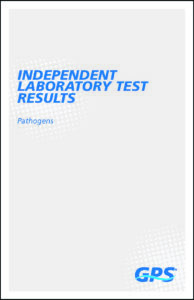 Our Services:
Cambridge Holdings LLC provides real estate services to institutions, investment partnerships and individual owners to comprehensively and effectively address the challenges inherent in the commercial real estate market. Cambridge Holdings LLC integrates the functions necessary to meet the challenges of the dynamic real estate environment and achieve the investment goals set by the owner.
Cambridge Holdings LLC's proven expertise in development, investment management, asset property management, leasing, construction management and asset/portfolio restructures, provides our clients and partners with solutions to their specific needs.
Contact Cambridge Holdings for your next project
knowledge
With decades of experience in the commercial real estate industry, our knowledge in every aspect of commercial real estate translates into value for our clients.
perseverance
Perseverance in our daily approach to the assignment offers proven results, maximizing the return for investors and improving the experience for all of our tenants.
integrity
Every day our team of professionals strives for excellence and unyielding integrity, always committed to do right by the investor and the tenant.
Our clients and tenants are the reason we're here. Please click the button to submit a service request for your building. We'll be happy to assist you.
The FDA Laboratory was developed by Cambridge Development Group LLC in 2003. Our team located

[…]

5-story corporate office building.

Single-story flex/office building.

Northpointe is a single-story Industrial building consisting of 51,000 square feet. It is conveniently located

[…]

Two single-story distribution buildings.

Metro Overlook Medical Building is a Class A, multi-tenant five story office building, ideally situated

[…]